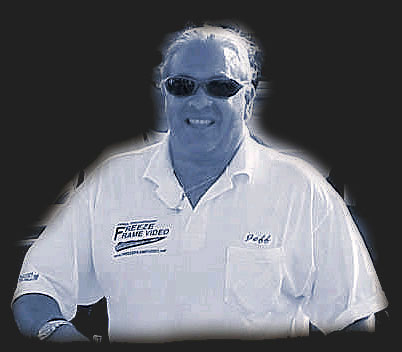 To the racing community, Jeff Gerardi is best known for hanging out the door of a helicopter at 100 plus mph shooting video and stills of the race boats. With over 23 years of experience, a catalog of more than 40,000 photographs, and a video library in excess of 500 volumes, it is no wonder that Freeze Frame Video is a household name amongst offshore enthusiasts. He adds to this collection, Year End Reviews, The-Best-Of, and custom race tapes that he edits for race team sponsor promotional packages. Jeff first became involved with high performance boating in 1974 while an employee at John Coen's Superboat factory on Long Island in New York. Coen was racing his world famous 24-foot Superboat at the time, and Jeff would accompany him to all of the races. Because Jeff was an amateur photographer for many years prior, he decided to shoot stills of the race boats.The 1975 Benihana Grand Prix in Point Pleasant, NJ was his first endeavor and proved a worthwhile undertaking. Jeff continued to shoot until 1982 when the offshore bug bit even harder. He built his own 30-foot Superboat which was ultimately named FREEZE FRAME, and began to race.

He raced 27 races through the '82-'83 seasons, and he walked off with the top honors at Billy Franz's NPBA Northeast Divisional category; but his schedule was hectic for he would continue to shoot whenever he was not racing in the Superboat. In 1984 another business brainstorm hit Jeff......video, and thus the business became known as Freeze Frame Video. Jeff struggled and persevered for eight years expanding into more complex video formats, and by the end of 1992, Jeff and his staff had
become the foremost name in offshore photography and video. Not content with a multi camera aerial shoot, Jeff acquired 22 onboard cameras similar to what are installed in some of the Nascar and other types of auto racers. These cameras give the viewer a perspective comparable to what the racers see, and in 1994 he changed over to Beta Cam which has a much greater resolution and clarity, along with the immediate availability to all television broadcasting situations including foreign formats. Currently, Jeff attends almost every race on the calendar for all three sanctioning bodies; SBI, US Offshore, and APBA. His staff has grown to seven employees, and his business is completely computerized and includes a full A/B roll editing suite which allows him to do digital video graphic effects.

On his days off, Gerardi still finds time to cruise the Great South Bay on the south shore of Long Island and out into the Atlantic Ocean in his 30-foot Superboat powered by twin 2.5 offshore Mercury outboards usually burning up 100 gallons of fuel in the process. He also takes leisure rides on his Superboat Classic 21. In the winter months, Jeff can usually be seen snowmobiling and testing out new onboard cameras for the racing season.